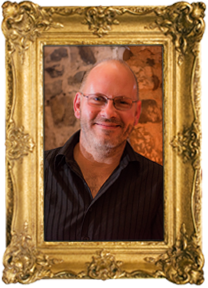 Born in Carlisle during the summer of 1967, Andrew grew up in a music-loving environment. His mother listened to music fairly constantly and his father had, in his earlier years, played piano. To be exposed to so much music all through his childhood had a profound affect on Andrew and he has since said that he knew he was a musician from a very young age, despite not actually getting a guitar until he was almost 15 years old.
Andrew mysteriously became Spud at around the age of 11, for reasons that can only be discussed in hushed voices…
Spud made up for the late start on guitar by teaching himself at a fast pace. He was gigging regularly with his own band within a year and recording while still only 16 years old. During his teen years he performed regularly at local rock clubs with a few Carlisle based bands and garnered quite a reputation as a local 'guitar hero', which is something he remembers with fondness and mild amusement…
It was due to living in Carlisle that he met and began to work with Rick Kemp in the 1990s. Rick recorded fretless bass on some of Spud's songs and, in 1995, they began to work together in a 3 piece rock/blues band. Spud recorded two albums with Rick ('Escape' and 'Spies') and played quite a few gigs with the band. Soon after this Rick decided to rejoin Steeleye and so the next 17 years saw Spud continually working the local live music scene, recording with his own bands and playing solo gigs.
Which brings us to 2015, and Spud received the invitation to join Steeleye Span. After a brief but intense rehearsal period, Spud set off with Maddy, Rick, Liam, Julian and Jessie on a 33 date tour. Warmly received by both the band and the fans Spud is thoroughly enjoying the challenges that Steeleye are bringing him.